"Our dog, Scooter, uses her doggie doorbell many times every day. We humans like knowing when she's ready to come back indoors from the yard, and Scooter likes that she can get our immediate attention and door-opening service when she rings her bell. If we don't respond quickly, she rings it a second time!"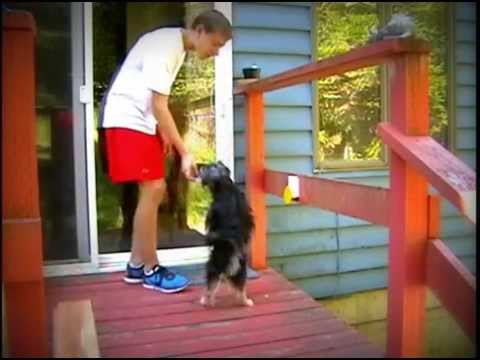 "Pebble Smart Doggie Doorbell is so much easier to train with than other types of doorbells."
Julie Flanery, Wonder Dogs - Corvallis, OR
"I had glass doors in my last house wrecked by my dogs. Not only were they covered in scratches they also always looked filthy. The dogs eventfully died of old age, we moved houses, and when we got a new puppy called Misty I started searching for ideas to prevent the scratched mess on the glass from our new puppy. While searching online I came across the Pebble Smart Doggie Doorbell and decided to try it. It works perfectly. People seem amazed that a dog can do this, and the first question I am asked is how hard is it to train them to use. We found the treat pouch worked brilliantly. We had a short issue over a couple of days when she figured it out and kept ringing for attention/treats, but we got over that really quickly by opening the door and making her go out each time she rang (we only did this once she had mastered the physical ringing of the bell). She quickly realised ringing the outside bell once again opened the door and got her back in. We didn't have to show her or teach her to use the outside bell (as it is identical to the inside one). Misty doesn't jump on the glass at all. If she is impatient she just re-rings the bell. Sometimes I forget I've let her out, and she could be sitting outside waiting to get in unknown to me, so that doesn't happen now as I can hear the bell anywhere in the house. She mastered toilet training the same week she mastered the bell (up to then she would pee on the mat at the door occasionally). The bell has pretty much put control of the door in her hands so we aren't having any toilet accidents in the house now either. I'm really pleased with this product, and for this reason wanted to take the time to write a review for you, and provide you with a video of Misty using the doorbell so other dog-owners can see what a great product this is!
Thanks for a great invention!!"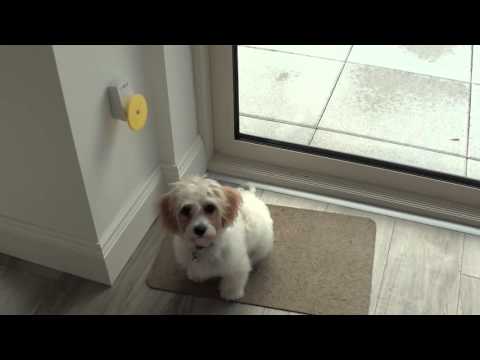 Kirsty H., Dog Owner - Ireland
"Just wanted to send a quick note to tell you how much we LOV
E our Pebble Smart! Our Bullmastiff puppy had taken to jumping up on our wood front doors to let us know she wanted to come in. I couldn't bear to see the new scratches that were appearing daily. Now she goes straight to her doorbell, rings it, and waits for us to come let her in. It's genius! Better yet, only took about two days for her to master it 100%. Who knew it could be so easy? Thank you, thank you, thank you from a very appreciative customer! You've saved our front doors, and some sanity for these new puppy owners!"
"Just a note to tell you how great a product you have. Our two year old Rottie Maijaa was doing a nasty job of pawing our entry door in an effort to get in the house. We ordered your "Doggie Doorbell" and in a few weeks she was using it to let us know she wanted in. Since then we obtained a boxer puppy who learned to use the bell in just three days. Cant tell you how grateful we are with your product. We wholeheartedly want to thank you for providing a real working product. Oh the door is much happier now also. Thanks Again!!
"I LOVE YOUR PRODUCT! I was unsure if it would actually work, but I started my puppy out at 8 weeks and now he's 2 years old. I don't know what I would do without it. Honestly, I never have to worry about when to let him out because he just tells me what he wants. I'm ordering another set for my mother's house for when he visits her. THANK YOU!"
Katie Heymer, photographer
"Hi Keith, Just wanted to let you know that we started training our 9 weeks old Great Pyr today using the Pebble Smart Doggie Doorbell. She's already rang it by herself two times to go out and once by herself to come in!!! My wife and I are very impressed. We're very positive that she'll
fully get the hang of it in the next few days. Worth every penny! …
"Here she is, Keith! Great Pyrenees named Yeti. She's so smart that she's already completely using it on her own!!! We are stunned and happy at the same time. Now it's definitely clear when she needs to go out; we haven't had a single accident in the house since we started training her with the doorbell yesterday! Thank you for an amazing idea and product!"
Chris McCain - Brownsville, TN
"The fun part of having these dog chimes is the look on visitors faces when were have a cup of coffee and the dog chimes ring and I say that either Ben or Bonnie (bother and sister) want to come in now, they are flabbergasted, that the dogs ring the dog chime to come in. We tell them how easy it is to train with using the treats behind the pod and in a few days they are fully trained."
"My husband ordered your twin pack for our 3 years old German Rottweiler, Allie. We used to use the bells on the door but our Rottweiler would jump on the back screen door to let us know she was ready to come in and already at 145 lbs she has just about destroyed the back door. So when my Husband and I saw that on DIY's I Want That. I just had to have it. As soon as I set it up showed her how to use it, within 3 minutes she had it down on how to use it inside an outside too. Thank you so much for coming up with the greatest tool ever. an saving my back door."
Carolyn P. - Pawtucket, RI
"We got the Pebble Smart to keep our German Short-haired Pointer, Shiner (pictured below with his sister Blinkie), from getting mud all over the slider door. Since he already knew how to "touch" objects, he caught on right away, to get a treat. Connecting it with the door opening took a little longer. He finally did, and now no longer paws at the glass. We are very pleased… Now, sometimes Shiner gets the idea that he wants a treat and if the slider is open, he strolls out, pokes the yellow button, and then waits to be invited in for a treat. …We weren't able to train his dog sister, Blinkie. She has one eye and didn't always see what I was pointing at, and would then lose interest. Since she never pawed the glass like her brother, it's really ok. … I just ordered another one to put on the screen door to the porch. This doggie doorbell is the greatest idea ever. I'm so glad I saw it on the TODAY Show."
"I just had to write you and tell you what a phenomenal product of the doggy doorbell!! I was looking for something that would tell me when my 2 boxers wanted to come in, and the doggy doorbell is the perfect product I was looking for!! It was so easy to install and the bell works excellent! My dogs caught on very quickly and I LOVE the product! Thank you so much!! I am thoroughly loving your product! I would recommend to any dog lover!"
"As a professional dog trainer, I'm often asked by clients how to train a dog to stop repeatedly jumping against the door when they want to come inside. They are frustrated by ripped screens, muddy paw prints and scratches on the door. The Pebble Smart Doggie Doorbell is the perfect solution. It is simple to install, and dogs learn how to use it quickly through positive reinforcement. I love this product!"
Lisa Walker, CPDT-KA, CBATI - Freeport, ME
"Pebble Smart Doggie Doorbell is a smart invention that gives the dog a fun and positive way to interact with the owner."
Julia Bowlin, Dog Trainer - Eugene, OR
"We are having a blast with our doorbell. Our cattle dog Georgia figured it out before we even had a chance to do some training! She does know the basics of targeting but it's an awesome design that she knew what to do without being taught. Our dog is smart but the doorbell's design made it easier than imaginable. My goal was to replace her demand barking to come in the house with targeting the doorbell, and so far so good! Thanks again,"
Mariah and Georgia - Montana
"I just wanted to say that I absolutely love your product! We got a puppy in November and house training it was a cinch thanks to the doggy doorbell. Instead of guessing at when he had to "go", we simply taught him how to ring the bell. Training took no time at all. I have a video of our dog using the doorbell. Like you advertise, no scratching! Also, no barking that annoys the neighbours. Thanks again."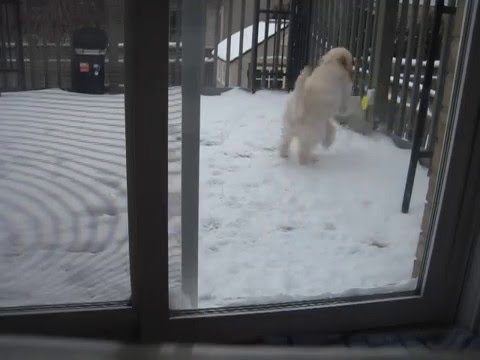 James Porto - Cambridge, Ontario, Canada
"Just to let you know how happy we are with our new Pebble Smart Doggie Doorbell. We have a new labrador puppy and we introduced the doorbell to her when she was only 10 weeks old. It took her less than 3 minutes to learn how to ring the bell. She's now almost 12 weeks old and already uses the doorbell (at least sometimes!! :))) when she needs to go out. We always ask her to ring the bell before we open the door to go out with her to go potty (and always does) so I´m very confident that in a couple of weeks she'll get fully house trained with the help of the your doggie doorbell.
"Congratulations. Excellent product. Really intuitive and easy to use for dogs. I'm sure you'll be very successful!! Good luck!!"
"You've developed a great product and visitors to our home are always perplexed to hear the doorbell ring, and then stunned and fascinated that the dog is "ringing" the bell to come in. It's a source of great amusement and amazement. A photo of Lara, our Siberian Husky, is attached."
"I installed this yesterday and our (already sleighbell trained) 7 mo old doberman girl has figured out how to use it to ask to come in. Wow! Sleigh bells to go out, pebble smart to get back in. Wonderful!"
"Keith, I have to tell you that the Pebble Smart Doorbell is the most awesome invention ever! We adopted a rescue dog (Koda, 11-month blue healer mix) about four months back and were struggling with house training. She would never let us know when she had to go out. Once we installed the Pebble Smart by the back door and went through about a weeks worth of training, she immediately learned that the bell got our attention! Now she happily rings the bell when it is time to go out. In fact, our dog likes the ability to control when she goes out….she thinks she is in charge! Haha!"
Tim Egeland - Grand Forks, ND
"Hi Keith, just to let you know that I have recieved the doggie doorbell and am delighted with it. It has taken my dog Reba less than four hours to get the hang of it. she now rings it when she wants to go out or come back in from the garden."
"Keith, This is our newest foster dog, Bingo. We had only had Bingo for a couple of days when we received our Doggy Doorbell, but I was able to teach him how to ring the bell in just a couple of minutes. As a foster family for dogs at our local humane shelter, I thought this would be a great tool to use to train the dogs before they find their forever home. We love the doggy doorbell!"
"Hi Keith, We've received the doorbell and the dogs took to it immediately! It's very responsive, with a gentle touch and will work very well for our purpose. Thanks!"
Robyn Abels, Executive Director - Power Paws Assistance Dogs
"I wanted to let you know how much our family LOVES your doggie doorbell. We began using sleigh bells on the doorknob for our dog to hit with his paw when he wanted to go outside. But Baxter the Dog is an 11 pound mutt (pictured left), and his bell ringing was not always loud enough for us to hear in another room if the TV was on. I searched at local pet stores and online for doggie doorbells, and the reviews for other products were inconsistent. They said the dogs had trouble finding the exact spot on the pad to hit with their nose or paw……or the chime was not loud enough……or the plastic fell apart. Lots of complaints, and no raving reviews……UNTIL I discovered Pebble Smart Doggie Doorbell. I like the design, the variety of chimes, the loudness, the compactness and the history of the invention. I ordered one and we leave it on the floor in the corner instead of wall mounted and it is easier for Baxter the Dog to hit it with his nose or his paw. We can hear the chime ANYWHERE in the house. The pad for Baxter the Dog to hit is very large and doesn't require a lot of pressure. He nails it every time. It has been a lifesaver for us. I told all my friends on Facebook and email friends about it. I extremely HIGHLY recommend this doggie doorbell over others on the market. What a wonderful product ! I am a picky shopper, and I have absolutely zero complaints and only raving compliments to say about this product. It delivers 100 % of the time, and is exactly as the description says it will be. It is a HUGE convenience in our house to have this product……WE LOVE IT !!!!! "
"Myrtle, my Miniature Schnauzer, always scratched at the kitchen door when she wanted to come in from the garden. So I purchased your Doggie Doorbell from your UK supplier last year in the hope it would stop this. I spent over a month trying to teach her to use it without success and had just about given up hope that she would learn to use the doorbell. Then suddenly last November she rang the doorbell and has been doing this ever since. Even when we've been away on holiday for a week she still remembers to ring the doorbell when we get back.
So a big thank you for producing an excellent product."
We are thrilled with our door bell! Our dog, Tukka, figured it out so quickly. It has cut down on her barking significantly! Much more pleasing to the ear as she is in and out frequently throughout the day. Thank you so much!
Richelle Williams - Halifax, Nova Scotia, Canada